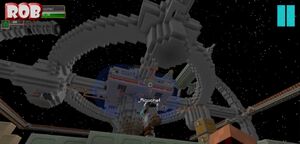 FMB's Space Station, or FMBS-9 (FBMS-9 in the typo-ed official documentation) is a massive space station built by FMB in Voltz Wars: Season Three, and survived into Voltz Wars: Season Four. It was originally designed to expand FMB's Export to space trade, and later modified to produce antimatter. It was abandoned after The Early Dawn and was later taken over by S.Commander Rilfom and other aliens.
Building the Space Station
Edit
Ever since early in Season Three, FMB aspired to get to space. Once they achieved this goal they travelled to the moon, but later decided to build a space station. Starting out small, FMB began to invest more time into the station, ferrying many materials up to it, and setting up a teleporter from FMB's Export to it. Once FMB Export began trade in the overworld, they began plans to trade in space via their space station.
Improving the Space Station
Edit
After much work by _Ricochet, the space station was built up to be a massive structure. A central hub was built, with multiple pylons branching off of it. Giant docking bays stretched from each pylon creating a sphere like bubble around the central hub. Eventually _Ricochet built a particle accelerator, powered by a fusion reactor, which was built in a large square around the outer edge of the station. The antimatter created here eventually led to The Early Dawn, which in turn led to FMB being forced to abandon the space station.
Aliens Take Over and FMB Return
Edit
Once FMB abandoned the space station, a group of aliens led by S. Commander Rilfom found and set up a living space there. This was in part because _Ricochet left out flyers which advertised antimatter, retail outlets, and accommodation at great rates, so the aliens thought it would be ok if they moved in, as long as they payed the rent when the owners returned. The aliens repaired and improved the station, setting up working retail outlets and selling antimatter, along with other trade to other alien life forms. S.Commander Rilfom agreed to give all earnings from the space station plus the rent from staying there for 10 years, as well as custody of the space station back to FMB once they presented the correct paperwork.
The Station Returns to FMB
Edit
After having the Guild Master write up the proper paperwork, FMB then proceeded to go to the space station and present the paperwork to S. Commander Rilfom. The commander requested to stay on the station as representatives of FMB and to use it as a home.
Second Abandonment
Edit
When FMB jumped through the back hole at the end of Voltz Wars: Season Four, they effectively abandoned the space station again. It is unknown what happened to FMBS-9 after this, as FunkMasterBlast and Ricochet were the only two people on Mearth able to reach it.